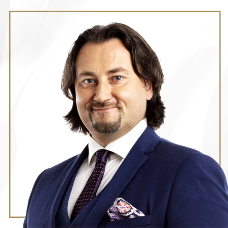 Build a man, and he will build a team - an interview with Karol Szczerkowski in "Network Magazyn"!
20.10.2020
Dear Club Members,
you had the opportunity to experience the great optimism and unique energy of Karol Szczerkowski many times during the events organised by DuoLife. Now you have a great opportunity to get to know the National Director of our Club a little closer and from a different angle, and Karol's interview for the industry magazine "Network Magazyn" will help you in that. We strongly encourage you to read it!
Build a man
, and he will build a team
Karol Szczerkowski
National Manager of the DuoLife Club
Karol Szczerkowski is an entrepreneur with 30 years of experience in various industries. For twenty years, he has been involved in imports from Asia. For eight, he has been working with DuoLife. He has built an international team of more than six thousand Partners. He holds the position of director. He is a certified trainer according to the Momentum Way method. He regularly appears with training online and on scenes with up to 1500 people.
Let us start from the beginning. Your career began when you were 14 years old. Typically, teens think of meeting with their peers, playing computer games, but not earning money. What has motivated you to do this?
I think I have been driven by the great need for independence and freedom. I preferred to earn money myself rather than receive pocket money. I wanted to devote my youth to building up capital so that at the age of 30 I can enjoy my life and travel.
How did you come up with the idea of trading nutritional supplements, what is more, those imported from Czechoslovakia?
I went with my older brother to the gym. At that time, everybody ate milk powder because there were no mass-gain supplements on the market. It was 1988, so the domestic market was poorly stocked. I learned that preparations for bodybuilders appeared in Czechoslovakia. My friend and I came up with a somewhat crazy idea to go there, find them and bring them back with us. That is exactly how it started. Later, I sold them in many gyms.
You have run many businesses. Why have you given them up?
I have had a lot of successes and a lot of failures. For example, together with my partners, as the first in Poland, we traded in the passages in hypermarkets. We had 260 points of sale with sunglasses in Poland and abroad. Over time, however, the competition and the high cost of the points in the markers have made it no longer profitable. I then made many errors. Unfortunately, I did not have such good training at that time as I have now in DuoLife. I had to invent everything myself. Today, after these training courses, it would have been much easier for me.
Do you think that MLM is better than traditional business?
My experience shows that this is definitely the case. There are trainings, very good, proven products and a ready-to-use system. There is less competition, no risk, and significantly less stress. In addition, MLM offers a chance of renewable income, which is very important to me.
Then why have you not started working in network marketing earlier?
When I started, there have been no multi-level marketing companies in Poland yet. Later I had an adventure with Amway. I went for training at that time, but I was not active. I must admit that as an entrepreneur I saw potential in MLM. At that time, I should have looked around and look for another company.
But you have found it.
Yes, many years later, I accidentally went to the presentation of a Polish company, DuoLife, when it was launched, and I started to test the products.
What makes DuoLife products stand out?
They are natural and of high quality.
Everyone says so about their supplements.
Yeah, you are right, but not everyone has such supplements. Before I started to use them, I was suffering from very troublesome heartburn. My doctor found that its cause was incurable reflux. He prescribed four different medicines to mitigate the symptoms and told me that I should take them for the rest of my life. After reading about the very serious side effects of one of these medicines, I decided that I would not take the risk and stopped taking them. I continued to follow the recommended diet. I added the supplementation with products from DuoLife, at that time, and I saw a rapid and significant improvement. Besides, the Scientific Council comprises specialists with titles of professors. The company has its own factories and laboratories, and products have received a large number of awards and certificates for their quality.
So, I suppose it is easy for you to encourage supplementation because of your own positive experience. And how is the situation in the context of the whole market? Is there a need to convince people to take supplements today?
I would say that I have recently seen a very strong increase in the popularity of natural products for health. This can be seen, for example, in the stores, where there are more and more shelves with healthy foodstuff. This means that more and more people are looking for such products. Today, I do not have to make people aware of the role of natural supplements. I do not need to sell these products. It is sufficient to give people information about them, because they are already looking for it. So most of us share something on Facebook.
What made you to become actively involved in building the structure?
I have experienced that DuoLife supplements work. I am credible in recommending them. I have also remembered that multi-level marketing has a great potential. This coincided with the trend that I observed in the market at that time. Chinese producers, using Google Translator, started to contact Polish companies directly. I realised that the days of imports from Asia that I was dealing with at the time were numbered. And DuoLife, which is healthy and natural products, has a big future.
As a teenager, you wanted to have financial freedom at the age of 30 to stop working and start travelling a lot. Did you succeed in that?
When I dealt with traditional business, it didn't work out. However, I realised this vision of life when working with DuoLife. I have much more time for myself and my family, I travel more, and I enjoy my life. I only regret that, at the age of 20, I didn't have a chance to work with a company like DuoLife. I can see how successful young people in our team are.
So, is your income passive?
In MLM, income is renewable, not passive.
What is the difference between passive and renewable income?
I am glad you asked. Every month, my team repeats purchases, and I get a commission. However, for this commission to remain high at all times, you must tend to this business. Many people compare MLM with real estate ownership, indicating that this is a typical passive income because you do not need to deal with it. But are you sure about that? The property needs to be renovated, rented out, and badly-behaved tenants must be evicted. Somebody has to deal with it. One of my properties has not been rented for some time and I have to pay the rent. Not mentioning the fact that you need to have money to buy a property, and not just one, because you will not earn enough from one property.
What I have learned when working in the networking business is that it is much easier to build a good team and generate turnover, gaining renewable income from it, than to make money and save it for several properties. An efficient working system and unique products, as well as training, can really help you in this. Anyone can do it, and it is invaluable. Because it is all not about working hard, but working smart.
What does it mean that in DuoLife the man is at the centre?
In many companies, the biggest focus is on results - do more, sell more. In DuoLife, human development through soft skills training is very important, while it is missing in many MLM companies. I work with people following the principle: Build a man, and he will build a team. It is part of the business model of softmarketing, developed by the founders of the company. Another of its aspects is to build a community. I noticed that today, people are more than ever looking for people like them. In DuoLife, they can develop together, learning about health, personal development, building their own brand online as well as practising public speeches. Everyone can choose what he or she likes, and that is beautiful in this community.
In traditional network marketing, the man needs to adapt to an existing system. In turn, softmarketing tries more to adapt to the man. DuoLife takes the ideas of the Leaders into account, and the company tries to support them in their efforts to realise these ideas. I have noticed that very enthusiastic women join our team because building ties, belonging to a community, safety, and independence are more important than ever for them. We also have many men in the team because softmarketing has something to offer for everyone. Additionally, the online work system is an ideal solution in recent times.
It sounds encouraging. How would you summarise our conversation?
When I look back, I see that it was satisfying for me to achieve success on my own when I was running a traditional business. However, looking at how much joy and happiness I gain from accompanying the people from our team in achieving their successes, I can see that a business based on network marketing gives me much more satisfaction. People have enormous potential. You only need to create for them conditions for achieving success. The softmarketing community is precisely such a place. I am very grateful that I have encountered DuoLife on my life path. I have had the openness and humility to look at this business carefully, avoiding being counselled by those who do not have experience in this kind of projects. Only then did I draw conclusions and take a decision.
I invite you to work with us: Bit.ly/karolduolife
Tomek Nawrot
(independent editor of publications for the MLM & DS industries)
---
Let your every day be a special day…
Back to the list of news