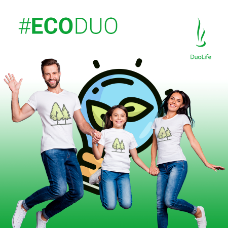 A new chapter in DuoLife history - we're launching the #EcoDuo mission
16.06.2021
Dear Club Members,
did you know that the 21st century, our century, is being called the environmental century? Public awareness of environmental protection is constantly growing, so we can take care of the world around us with increasingly promising results. Unfortunately, our planet still faces serious problems, including the greenhouse effect, water and air pollution, melting glaciers, deforestation and acid rain, which threaten plants, animals, but also us - humans.
We are embarking on a mission
#EcoDuo
The emergence and development of hazards is primarily the result of human activity. The relentless rush, profit orientation, and lust for possessions define a pattern of behavior so detrimental to the environment. And yet, the Earth is our common home, the only one we have and that future generations will inherit. We need to do everything we can to take care of it...
... and that's why we're announcing a brand new chapter in DuoLife's history -

#EcoDuo

, meaning "human centered", living in a friendly, clean and safe environment!

E - Ecology
First and foremost. Going green is not a fad or a trend that will soon be forgotten. It's a lifestyle that has a very big impact on us and our world. In short, ecology is the bottom line.

C - Center
It's an obvious reference to the idea of "Human centered," which aligns perfectly with DuoLife's next mission, #EcoDuo. The human at the center deserves to live in a friendly world and in harmony with nature. That is what we strive to accomplish every day.

O - Responsibility
For us, the environment and the world around us. Humans are the dominant species, meaning humans are the ones who have the largest impact. Responsibility is the key to taking proper care of our planet.

D - Kindness
We are kind to ourselves, to nature, to the world. After all, as Jean Jaques Rousseau wrote - what wisdom can you find that is greater than kindness?

U - Smile
Our actions lead the way to a better tomorrow, so why not smile? Let's do this as often as possible!

O - Courage
Ecology, while constantly gaining more supporters, is still a novelty, and supporting and pursuing novelty always takes courage. That is exactly how we try to operate!
#EcoDuo is our future and we want to take good care of it. How do we do it? By making informed and responsible decisions that take into account all environmentally friendly aspects. These types of effects include:
switching to environmentally friendly fill for packages shipped;
giving up on marketing materials (flyers, Compensation Plan, Start Plan) and cardboard packaging for Medical Formula supplements;
giving up on paper-based sales documents and a move to PDF E-invoices confirming the purchase.
maximum reduction of printed correspondence.
However, this is just the beginning. We will be announcing more environmentally friendly activities soon, so be sure to follow our website and social media profiles. Gradually and consciously, we will move to more and more eco-friendly solutions, which we will inform you about each time. There's a lot to look forward to!
We are changing the world for the better together with
#EcoDuo
.
"Let your every day be a special day..."
Back to the list of news